THE SHORT STORY:
Name: Sumara Montalvo
Age: Born in 1987
Location: Back to living in Montreal, Canada after living for some years in Switzerland (2013-2021)
Nationality: Canadian and Swiss
Languages: French & English - Fluent, Swiss German - very good, German - good, Spanish - good, Italian - working proficiency
Education: Bachelor of Arts in Modern Languages (Major Spanish Literature & Society, Minor in German), micromasters in Digital Marketing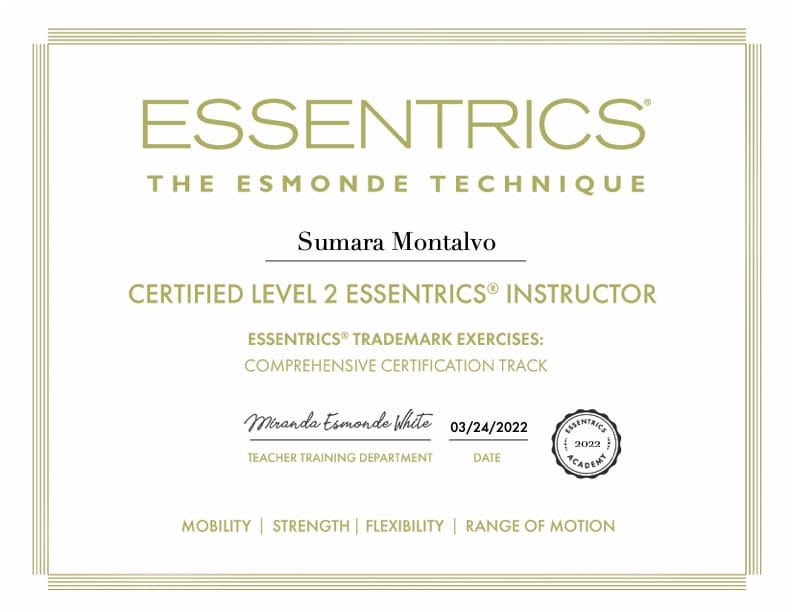 Certified Level 2 Essentrics® Instructor, 24/03/22
Certified Level 1 Essentrics® Instructor, 09/08/21
Essentrics® Virtual Teacher Training Event: Pre-Choreographed Workout 1 Workshop (Comprehensive track), 29/04/21
ANATOMY403.1x: Anatomy: Musculoskeletal and Integumentary Systems, MichiganX / University of Michigan, 31/08/21
Essentrics®  Virtual Teacher Training Event: Level 2 Exam Prep: Designing & Analyzing Trademark Sequences, 28/11/21
Essentrics®  Virtual Teacher Training Event: Turning any PCW into an Aging Backwards® Class, 09/04/22
THE LONG STORY:
Dear Reader,
My life has been a winding road which has ultimately led me to my calling to become a certified Essentrics Instructor. This is going to be a long read, you have been warned!
I was born in Montreal, Canada, to a Swiss-German mother and a Salvadorean father. I studied in the French Canadian school system while growing up in a multicultural environment. As a child I dreamed of becoming a teacher.
Life being what it is, I struggled to find my path later on in life. I was interested in many things but would easily get bored. While living in Montreal I dropped out of my psychology studies. I moved to study and work in hairdressing, then moved on to work as a top customer service rep for an international cosmetics company. I eventually decided to get a university degree and completed a B.A. in Modern Languages.
When I moved to Switzerland I first worked in IT recruitment then later as an e-commerce customer service manager for a prestigious consumer goods company.
One thing which always followed me without fail throughout all these experiences was upper back pain!
My mother kept raving to me about Classical Stretch on PBS. It is a morning workout show featuring Miranda Esmonde-White, the creator of Essentrics. It was one of the few forms of  exercises my mother was able to do to tone her midsection without triggering pain in her knees or back. During one of her visits to Switzerland in 2014, seeing as I preferred more challenging workouts, she gifted me a DVD featuring Miranda's daughter Sahra Esmonde-White (current Essentrics CEO). Her hope was that I would relate to Sahra's youthful style better. Was she ever right. I worked out to that DVD a zillion times. Colleagues at work started asking me what I was doing because they could notice a change. Yes, I was more toned, but above all, I had never felt better. I had finally found a workout that was the full package. Meaning it consisted of strengthening, stretching, and releasing tension in my upper back as well as the other full-body benefits.
Only one problem. Friends in Zurich were mostly going to the gym and kept talking me into all sorts of different forms of exercise. I only owned one Essentrics DVD. I would end spending the next few years starting and stopping rather than sticking consistently to Essentrics.
I had one particular pain spot in the upper-right side of my back which had plagued me for years. I would deal with serious flare ups whenever I wasn't doing Essentrics. I'm talking about real pain. I developed a severe case of shingles in that exact area on my back which took 4 months to heal. A few years later had to go on sick-leave and get physical therapy because I couldn't manage to sit at my office computer and hold the mouse anymore.  Sadly, a couple years after that I had to do physical therapy again because I couldn't sit and hold out the baby spoon to feed my son.
Indeed, I had become a mother in 2017. I suffered from SPD (symphysis pubis dysfunction, pelvic pain) during my pregnancy, experienced a traumatic birth and had to be hospitalized twice post-partum for mastitis (breast infections). All this made it impossible to easily "bounce back". I had always been a very fit person yet I found myself to be clinically overweight for the first time in my life. I did what most people do. I went to the gym to get a training program and was regularly weighing myself to track my progress. You can probably guess what happened next. Although I was strengthening my back with weight training, it did nothing to release tension and rebalance my connective tissue. Although I kept weighing myself, I was not dropping down in those numbers the way I was hoping to. I was the classic miserable, tired new mom with low self-esteem. I felt stuck... plus my back was killing me!
Luckily Essentrics TV streaming then became available. I ditched my scale (yes literally told my husband to throw it out) and I started to do more Essentrics workouts again. I could feel the positive energy radiating through my screen. One of the principles of this program is learning techniques that help you feel good in your own body (focus on your body's health and wellness vs external aesthetic goals). After a while I didn't renew my gym subscription and decided to train only with Essentrics. I started seeing real results not only in the way I looked but THE WAY I FELT. I was toning while stretching and releasing tension in my body! Everybody asked me how much weight had I lost with Essentrics since it had noticeably changed my shape. The truth is that I don't know exactly (ditched scale, remember?) and that is the most mentally healthy and beautiful answer I can give you. I am free. Free of the burden of expectation. Free from judgment. I look great (at least I think so, and that's what people tell me) and better yet I FEEL STRONG. I have tons of energy and a spring in my step again.
Remember that nasty pressure spot in my upper back which had made my life miserable? Well, my historically weak back has truly transformed. It has become one of the strongest and most visibly toned parts of my body. I have gained mobility and range of movement in my upper back and shoulders like I never had before.
It took me some time but I finally hit that epiphany where I realized that I simply cannot afford to stop practicing this workout technique. In case you were wondering, I had indeed tried other popular types of fitness classes usually recommended for someone with my history. It was never the right fit for me. Not fun enough, too strenuous, or both!
I finally found my bliss. That thing that I am keen to wake up and do every day. It was only natural that I would want to share and pay forward this life changing experience with others.
Thank you for reading my story! I hope to get to know you soon! Let's explore the world of Essentrics®'s stretching and toning techniques to help you reach your own goals! Let's get in touch!
Sincerely,
Sumara Montalvo